The Soundcast iCast System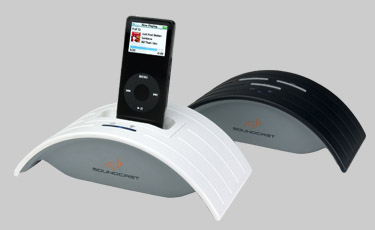 View animated demo of iCast
Large Flash file. It may take about 2 minutes to load. Please be patient.
The Soundcast iCast system is tailored to the needs of the Apple iPod owner.
The iCast transmitter is specially configured to accommodate most of the currently available iPods, using approved interchangeable inserts in the docking bay.
The iCast transmitter will also charge your iPod, and you can still use all the iPod controls to operate the iPod while it is the dock transmitting your music to the iCast receiver, located elsewhere in your home.
The iCast receiver duplicates several key iPod functions to allow you to operate your iPod remotely from the receiver location.
Free your iPod from a direct connection to your stereo system. Locate the iCast transmitter anywhere in your home and still operate your audio system - wirelessly!
Download Manuals:
Download iCast Transmitter Manual (.pdf)
Download iCast Receiver Manual (.pdf)