Soundcast AudioCast System




View animated demo of AudioCast
Large Flash file. It may take about 2 minutes to load. Please be patient.
The Soundcast Audiocast lets you turn your PC into a music server.
Simply hook the Audiocast transmitter to the headphone out jack on your computer and send your recorded music files to the Audiocast receiver that is attached to your music system, wherever it may be in your home.
You can even use two receivers with each Soundcast transmitter so that you can create two separate music zones in your home. It is even possible to connect two Audiocast transmitters to the same music source - then you can make a four zone system!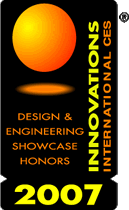 11/8/2006 - SOUNDCAST SYSTEMS IS NAMED INNOVATIONS 2007 DESIGN AND ENGINEERING AWARD HONOREE

Download Manuals:
Manual for AudioCast Transmitter (.pdf)
Manual for AudioCast Receiver (.pdf)