News

2-16-2007 Matt Vance from Playlist.com reviews several household wireless audio systems. Article
---
1/8/07 - Soundcast® Unveils Two New High Performance Wireless Speakers at the International Consumer Electronics Show
---

6/14/06 – Soundcast iCast – PC Magazine
http://www.pcmag.com/article2/0,1895,1975886,00.asp
Quotes from PC Magazine editor:
"...it does not bow down to interference from anything."
"...the sound quality is crystal clear."
"Setup is very simple"
"Trust me, it works."
"I tested it very thoroughly, and I didn't hear so much as a click or a pop."
"They work and are responsive --- you can't ask for much more than that."
"...iCast is the way to go."
---
6/14/06 – Soundcast iCast Named Editors Choice – PC Magazinehttp://www.pcmag.com/article2/0,1895,1976745,00.asp
---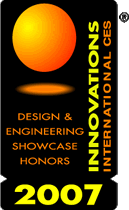 11/8/2006 - SOUNDCAST SYSTEMS IS NAMED INNOVATIONS 2007 DESIGN AND ENGINEERING AWARD HONOREE
---
11/8/2006 - Soundcast Systems CTS-V Racecar Speeds into the Record Books at USFRA World of Speed Race
---

6/14/06 - Soundcast's iCast wireless iPod dock won't choke in front of a microwave – ABC Newshttp://abcnews.go.com/Technology/ZDM/story?id=2079665
---
9/21/2006 -- CEDIA 2006 report
http://hometoys.com/article.php4?displayid=784
HOME TOYS: Transmit Your MP3 Music Files Using New Wireless Technology
5/25/2006
---

Soundcast Shows Off Interference-free Wireless Audio - Gearlog.com
4/15/2006
---

Soundcast Unveils its iCast and AudioCast Interference-Free, Wireless Audio Solution
4/19/2006
---

Soundcast Unveils iCast and AudioCast
4/15/2006
---
Band-hopping transmitters avoid interference
4/11/06
---
Soundcast Unveils iCast and AudioCast as the Industry's First Interference-Free, Wireless Audio Solution
4/11/06
---
iCast wireless connects iPod to home stereo
4/10/2006
---

Soundcast Unveils iCast and AudioCast
4/10/2006
---
News Briefs for April 10, 2006
4/10/2006
---
Soundcast Unveils iCast(TM) and AudioCast(TM) as the Industry's First Interference-Free, Wireless Audio Solution
4/10/2006
---
Soundcast Unveils iCast(TM) and AudioCast(TM) as the Industry's First Interference-Free, Wireless Audio Solution
---
Soundcast Boasts Noise-Free Wireless Audio For iPods, MP3 Players
4/10/2006
---

Soundcast Shows Off Interference-free Wireless Audio
3/22/2006
---
Soundcast hosts the Action Sports Day at the
Del Mar Thoroughbred Club - July 29, 2006
PUBLIC RELATIONS CONTACT:
Jenny Gilcrest
The Ardell Group
Phone: 305-373-9042
[email protected]